バイオプシーにCooperSurgicalの製品を選択する理由
世界中の培養士たちと協力していること、ARTの全過程において製品のポートフォーリオを提供していること、
この結果ラボのおけるバイオプシーを容易にしています。
こういった活動が成功率を上げ、常に一定の結果を導くことに繋がっています。
バイオプシーのために我々の機器と消耗品をいっしょに利用することは下記のような利点があります:
ご要望にあったソリューションの提供
ご要望を満たすようにデザインされた製品群は効率性を向上
製品のテスト結果を示す証明
全ての製品が品質基準を満たしている安全性
Confidence that the patient's genetic material, when tested, is being handled by experts at our sister company CooperGenomicsSM
製造の製品群は互いに相乗効果があります。バイオプシーの様々なプロセスをカバーすることで、操作の無駄を省き、可能な限りベストな結果をもたらします。
Committed to every aspect of embryo biopsy
Every embryo biopsy lab is unique and so are the practitioners. We understand the processes and the variables and considerations at each stage. Together we can find the ideal solution for you, your lab and your team.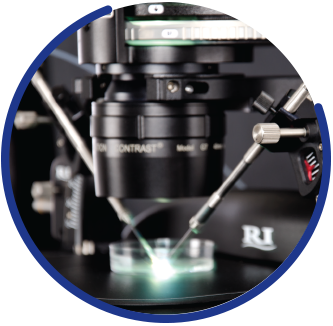 Biopsy
---
To help biopsies become routine and standardized, our biopsy hardware is uniquely designed to work together. Ergonomically designed, the Integra 3 micromanipulator is comfortable to use and ensures samples are kept at the optimal temperature. Our Saturn 5 laser pulse times ensure the lowest amount of heat reaches the embryo, thereby lowering possible risk of thermal damage. The software they use is compatible with one another – including the RI Witness system, which monitors the security of patient samples.
To complement and fully ensure successful biopsy procedures, choose the exact micropipette tool best suited to your needs from our extensive range of ORIGIO, TPC and RI micropipettes.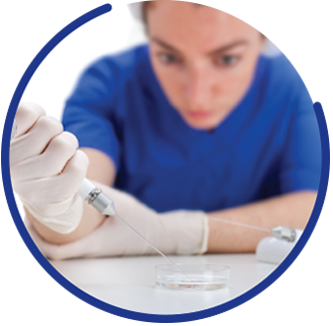 Preparation
---
It is important that the embryo is as clean as possible before biopsy, with all extraneous cells removed in order to mitigate the risk of contaminating the sample.
The Stripper® and EZ-Range offer a complete selection of denudation and handling tips, as well as pipettor handles to offer you both comfort and effectiveness.
We provide Pasteur pipettes, ORIGIO and SAGE media and oil for dish preparation.
Tubing & Spreading
---
To ensure safe transfer of biopsied materials to the genetics lab, use pipettes from the EZ-Range or the Stripper range. The Stripper PGD uses an extra small diameter tip specially designed to handle the biopsied material.
During all handling and packing procedures, K-systems and ORIGIO workstations help ensure protection of sample integrity.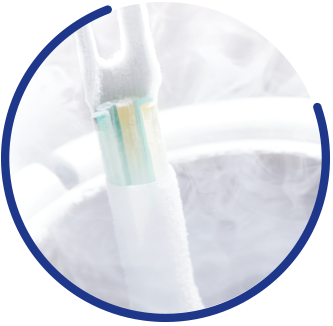 Cryopreservation
---
Biopsied embryos usually need to be cryopreserved before transfer, while practitioners await results.
The documented efficiency of SAGE and ORIGIO vitrification media, together with the VitriFit™ open carrier, provides a full solution for effective vitrification.
Products created by CooperSurgical fertility companies work in harmony with one another. Covering every stage of embryo biopsy procedures, you can streamline your work and achieve the best possible results.
Professor Charles Kingsland's 2017 ESHRE Presentation:
Collecting Eggs & Transferring Embryos
Professor Charles Kingsland has worked with Wallace for over 20 years, helping design a number of our needles in the late 1990s. He's been pivotal in the development of our products, training customers, and sharing best practice about the use of Wallace products within clinics across the globe.
Passionate about quality, he believes our "gold standard" products help improve performance and pregnancy rates in clinics. He has worked for 25 years within the NHS and he is part of the British Fertility Society.
Optimize your procedures – use the right tools
Key benefits  of using our products for biopsies in the ART laboratory:
Integra 3™ micromanipulator – Thermosafe™ warm air technology keeps samples at optimum temperature
Saturn 5 Active™ laser – enables cell ablation with pinpoint accuracy, reducing cell damage
Micropipettes – biopsy micropipettes to cover any procedure and preference
Handling devices and pipette tips – easily and comfortably move samples before and after biopsy
Incubators – optimal maintenance of temperature, gas consumption, air quality and pH control
Biopsy media – supports biopsy of embryos, at any stage, for PGD and PGS testing
Oil – consistent product quality and reliability enhances success rates
RI Witness™ – ensures patient samples are tracked through the lab
Vitrification kits and carrier – promote high blastocyst survival rates and viability
Workstations – maintains a clean environment and stable temperatures
Genetic testing – access to the best testing and counseling options commercially available